We knew that McLaren were going to create a Carbon Series of the 675LT after testing the water with the carbon fibre bodied McLaren P1. The new car Carbon Series 675LT has 40% more carbon fibre over the standard series.
Carbon fibre – I'm sure you know – is very strong but it is not always the prettiest of materials. To counter this, McLaren have coated it in a gloss finish in order to show off the carbon weave.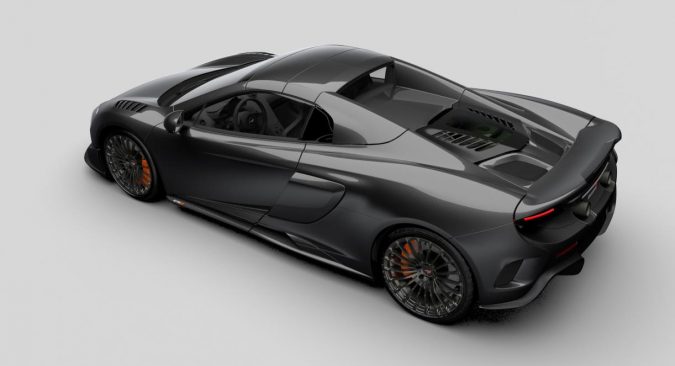 675LT Spider MSO Carbon Series – What's new?
It is not to hard to tell which parts are new. If you look closely you will see the bonnet new deck lid, A-pillars, side blades and retractable roof. I love how adding carbon to cars gives such a stealthy look and also strips off lots of weight at the same time. Looking a bit closer you will notice the front bumper has been changed to one that has been inspired by the GT3 cars.
Power Plant
The power for this beast is still coming from a 3.8 litre V8 engine that creates a devilish 666 bhp and 516 lb-ft of torque. Combining that with a super lightweight car gets you to 60 mph in 2.9 seconds and will do a top speed of 203 mph. This car is set to be super exclusive with only 25 examples being made and, you guessed it, they have all been sold.