R-Reforged has revealed that the Aston Martin V12 Zagato Heritage TWINS are the first set of cars created to celebrate Zagato's Centenary. The TWINS prototypes were specified by Andrea and Marella Zagato, which are available as a pair in Coupe and Speedster form and reserved for the private Zagato collection.
"The essence of this project was to create a perfect 'garage', comprising two desirable and collectable cars; Coupé and Roadster," says Andrea Zagato. "Limited to just 19 pairs, a significant number, recalling the year Zagato was formed, the Aston Martin V12 Zagato Heritage TWINS by R-Reforged mark a remarkable milestone for the Milanese atelier… we chose Aston Martin, which has surely been our most prestigious partner over the last 50 years, to mark this celebration. The cooperation with R-Reforged ensured that we could create an instant classic."
R-Reforged's new 2,800 square metre facility is in Warwick UK where the cars are assembled. 16 weeks to assemble and 12 craftspeople is what takes to create and personalise each TWIN car.
These TWINS will be on display at the flagship dealership Aston Martin St. Gallen in Switzerland until early in the New Year before embarking on a global tour including the US and Europe.
Zagato Design Touches
Designed by Zagato, at their Milan headquarters, the TWINS have evolved from the iconic Italian design of the 2011 Aston Martin Vantage V12 Zagato Coupe form.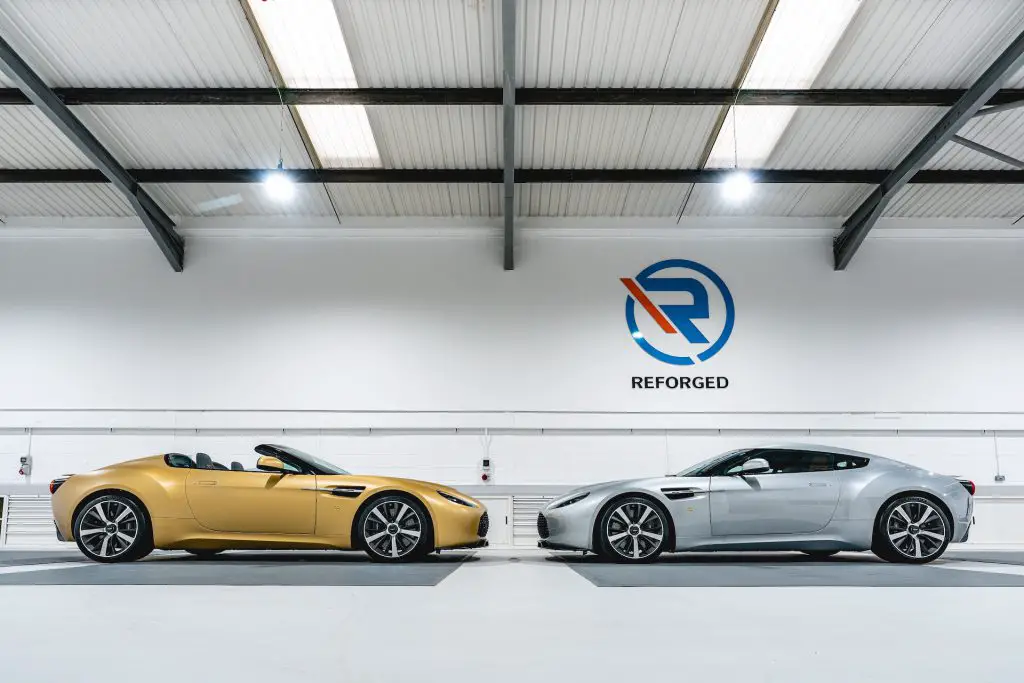 Vehicle performance for the 19 owners of this series will be special and transformative. This starts with an aggressive and potent 5.9-litre V12 engine which packs an impressive 600bhp, and thanks to R-Reforged, a performance aluminium air intake and Titanium exhaust. What creates this incredible lean stance of the TWINS is a 10 mm ride height reduction, 20 mm stretched track and 19inch centre lock wheels – forged by APP tech.
Bespoke Interior & Exterior
Multiple design upgrades and changes include; complete carbon fibre material, new front splitter for the nose and front wings, a sleeker tail and active aero wing that enhances the cars' balance.
R-Reforged can offer a full body 'visual carbon' finish. A 400-hour process that shows just how far the R-Reforged team will go to satisfy customer needs, leaving no detail unfinished. Each TWIN is bespoke for each owner, from personalised body paint colour and finish, to interior materials.
R-Universe's CEO Thomas Mayer – "We have brought together an incredible team of engineers and craftspeople to develop and produce these beautiful, exquisitely detailed cars that amplify the design, craftsmanship, performance and ownership experience of the original."
Rich, interior materials include Bridge of Weir's finest Grade A leather with an almost infinite range of colours, bespoke patterns and textures. Detailing includes, colour matching the horn push button and a sleeker, longer windscreen for the Speedster.
Ownership of the TWIN cars comes with many benefits. They will receive specially tailored gifts throughout their ownership, starting with carbon fibre presentation case, and cataloguing specification details.